Special Educational Needs & Disabilities
At Hillside First School, we are committed to offering an inclusive curriculum to ensure the best possible progress for all of our pupils whatever their needs or abilities. If you have any questions about your child's needs please contact our Inclusion team, either by ringing the school office on 01202 822737 or emailing office@hillsidefirstschool.org
Our Inclusion Team:
Mrs Clare Corrie
Mrs Heather Harris
Special Educational Needs
Co-ordinator (SENDCO)
Inclusion Leader and
Family Liaison Officer
What does the term Special Educational Needs (SEND) Mean?
The school follows the statutory guidance contained in the SEN Code of Practice 0-25 years, January 2015. The Code of Practice explains that;
A child has special educational needs if they have a learning difficulty or disability which calls for special educational provision to be made for them.

A child has a learning difficulty or disability if they have significantly greater difficulty in learning than the majority of others of the same age, or has a disability which prevents or hinders them from making use of the educational facilities provided for children of the same age in schools.
What are the SEN Areas of Need?
The SEN Code of Practice 0-25 years, January 2015 outlines four broad areas of special educational need that include a range of difficulties and conditions:
Communication and Interaction Needs
Cognition and Learning Difficulties
Social, Emotional and Mental Health Needs
Sensory and/or Physical Needs
But while many children and young people have difficulties that fit clearly into one of these areas; some have needs that span two or more areas; for others the precise nature of their need may not be clear at the outset. Please see the details listed on the diagram below to identify which special needs are listed under which broad area of need.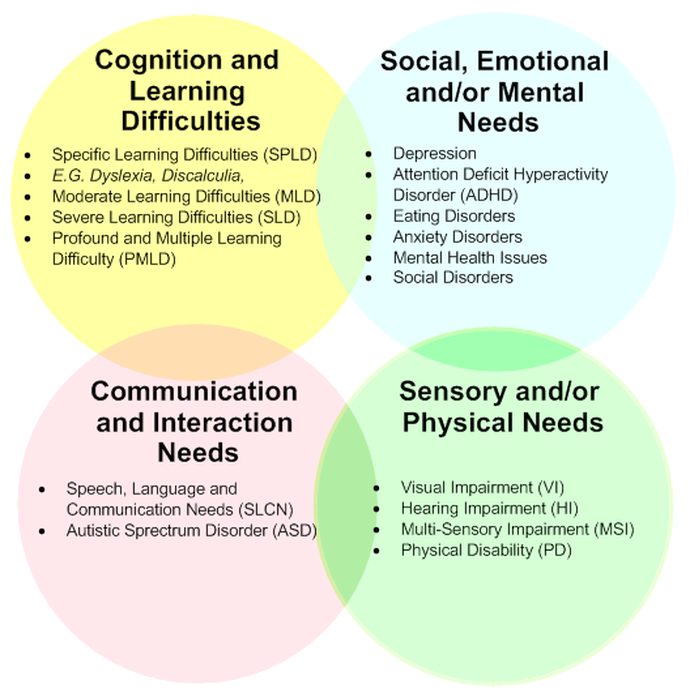 At Hillside First School we provide our children with exciting and varied activities in order that they receive the highest quality education regardless of their differences (e.g. age, race, ethnic beliefs, special needs or disability).
We have hard working and caring teachers who are committed to the inclusion of those children recognised as having Special Educational Needs or Disabilities. Activities and tasks that the children take part in are chosen carefully and tailored to fit individual children's needs.
We identify pupils with specific difficulties through observing pupil performance and behaviour as well as through formal testing and SATs. The class teacher writes 'Individual Support Plans' and reviews progress with the parents on a termly basis. Through quality first teaching and appropriate differentiation, children with particular strengths and talents are challenged.
SEND Policies
The SEND Information Report outlines the school's provision for pupils with SEND and how the school will implement its SEND Policy.
The policy includes information about how the school prevents those pupils with SEND from being treated less favourably than pupils with no SEND.
The school buildings and grounds are designed to maximise access to all pupils, including those with disabilities.
The Dorset Council SEND Local Offer provides information, advice and support for children and young people aged from 0 to 25 years with special educational needs and disabilities (SEND) and their families.
Admission Arrangements for Pupils With SEND - Under the school's admission arrangements, pupils with SEND are treated no less favourably than their peers without SEND.
Useful Links
For further information regarding Special Educational Needs, please visit Initio Learning Trust's Special Educational Needs and Disabilities Information Website.
The family information service has a wide range of information for parents and families about local activities, services and support. This also includes a monthly newsletter and facebook page.
The SEND Information, Advice and Support Service offer independent information and support to parents and carers of children with special educational needs.
The Dorset Parent Carer Council is run by parents for parents and for their families. They work to provide a strong and united voice for families of children in Dorset who are disabled or have SEN.