Year 1/2 - Tawny Owls
STAFF
Tawny Owls 1 (Year 1) are taught by: Miss Zachariades
Tawny Owls 2 (Year 2) are taught by: Mrs Pain
Tawny Owls 3 (Year 2) are taught by: Mrs Child
Teaching assistants are Mrs Harman, Mrs Monger and Mrs Morrell
TYPICAL SCHOOL DAY
| | |
| --- | --- |
| 8.35am | Tawny Owls Doors Open |
| 8.45am | Registration |
| 9.00am | Maths Learning (& PE) |
| 10.00am – 10.30am | Break time including snack |
| 10:30am - 12.00pm | English Learning – Phonics, Writing, Reading. (& PE) |
| 12.00pm – 1.00pm | Lunch |
| 1.00pm – 1.50pm | Creative Topic Learning |
| 1.50pm – 2.00pm | Playtime |
| 2:00pm - 3.00pm | Creative Topic Learning, Story time |
| 3.00pm | School day ends for Barn Owls |
TOPICS
Year 1 - Autumn
Marvellous Me
Amazing Animals
Year 2 - Autumn
Paddington Bear and the Great Fire of London
Dinosaurs
The Christmasaurus
Year 1 - Spring
Back in time: Houses and Homes
Back in time: Toys and Games
Year 2 - Spring
Once upon a time and puppet shows
Food around the World
Year 1 - Summer
Where in the Universe are we?
In my Garden
Year 2 - Summer
Where the wild things are
Adventure Island
WELCOME TO TAWNY OWLS
In Year 1 We take everyone's individual learning forward from the end of Little Owls and provide intervention groups for phonics, reading, handwriting, maths and ELSA as required.
Our main focus for the year is phonics, leading up to the Statutory Phonic Screening Check in June. We review the Early Years sounds in phase 2 & 3 and move onto phase 4, 5 & 6 blends and digraphs, encouraging the children to segment and blend using their robot arms in order to read real and "alien" words.
Year 1 children begin to join their letters in words using cursive script letter formation and begin to write short narratives using full sentences which are punctuated correctly. They begin to use question marks and extend sentences using "and" and also use simple, descriptive language.
In year 1 we begin the Maths No Problem Scheme which includes lots of practical maths activities alongside creating graphic representations and completing written activities in their maths workbooks.
We continue to encourage the children to be independent, confident learners who are respectful and supportive of each other using the new HeartSmart scheme and RRS principles.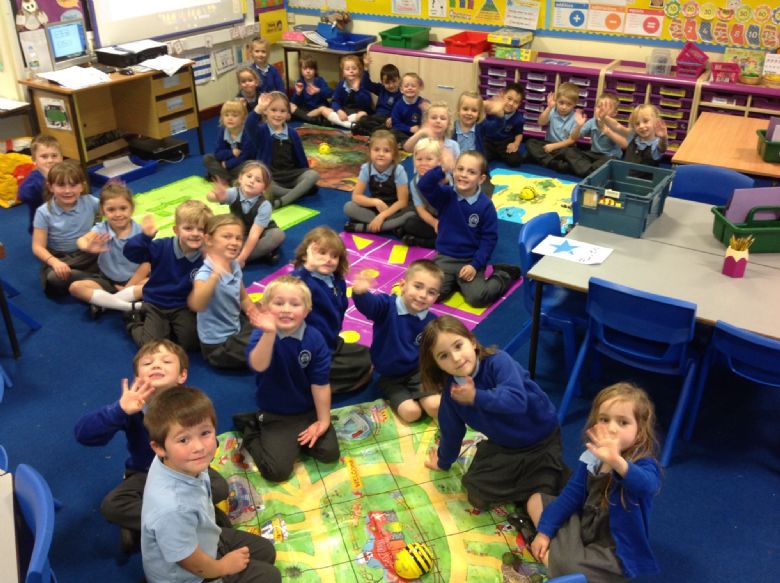 In Year 2 we focus on embedding word reading to ensure fluency and improve the speed of reading. We also focus on reading comprehension and developing children's ability to make inferences and further understanding of the text. We ask that parents continue to read regularly with the children and ask lots of questions about what they have read as well as just hearing the child read.
In maths, we work with numbers up to 100. We ensure the children's understanding of place value is secure to form a foundation from which to build their learning. We begin to introduce times tables and by the end of the year the children would be expected to know their 2, 5 and 10 times tables.
During the month of May we take part in the national SATS tests. We try to ensure the children feel as relaxed as possible when they take part. They will be used to seeing the type of questions used in the test as we spend time looking at past papers and give the children plenty of practise. We ask that parents refrain from taking any holidays in term time during the month of May.